Dungeons and Monsters 1.85 Details
---
Publisher Description

3d action-RPG game. You have to fight against spiders, warriors, dragons, ghouls and other monsters to collect all magic scrolls on every location. When all magic scrolls are found the portal to another location will be opened and you will be able to search for scrolls in another dungeon. There are two heroes, a man and a woman, each of them has strong and weak sides. After killing enemies the heroes get experience points which they can spend on developing their abilities and getting new combat spells.
Download and use it now: Dungeons and Monsters
Related Programs
Action Backup is a perfect solution for backing up files on schedule. Its wide range of features allows Action Backup to quickly and easily create a backup copy of any data on your computer. At the same time the app...
---
Screenshot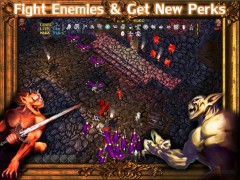 ---
---
Details
Follow us:
Size:

78.03 MB

License

Freeware

Cost

$0

Operating Systems

Windows 10

Release date

14 May 2018

Publisher gameforlaptop.com
---
Top Downloads (last week)
Keywords